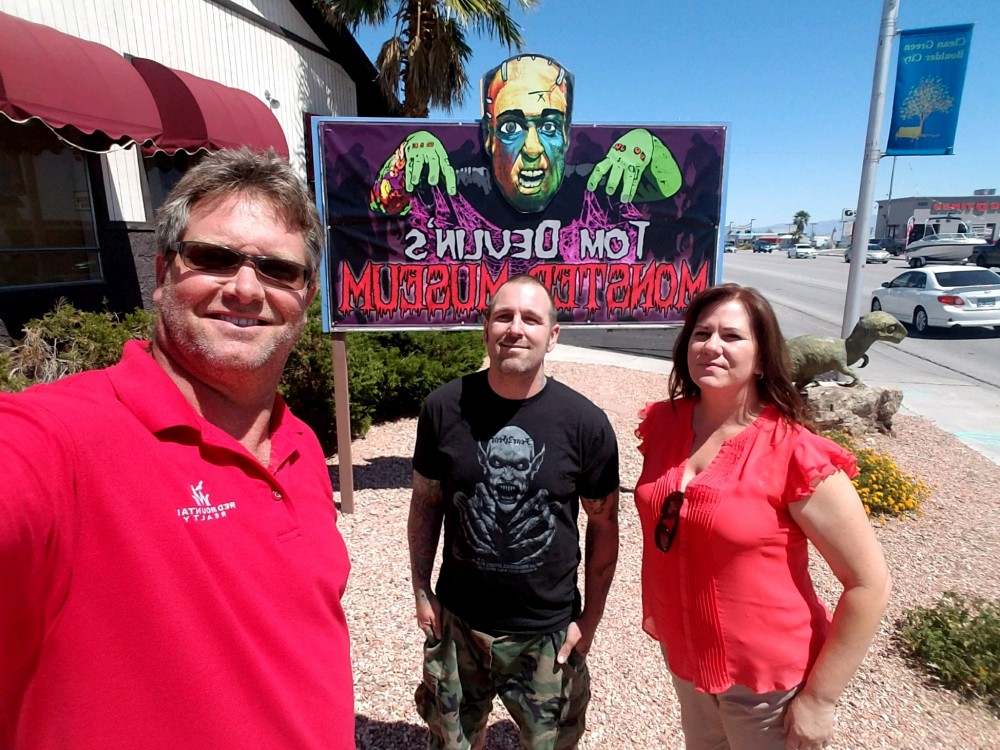 Yikes! Guess who has made Boulder City their new home? Freddy, Jason, Poultrygeist, Crypt Keeper, zombies, clowns and SO many more monsters, killers and horror of then and now! We've all seen the sign out front as we drive to and from Boulder City. Tom was kind enough to give us a sneak peek of what is to come. Can we say crazy, creepy talent?!!? You will not want to miss going inside. Not only to see the creations up close, but to also check out the retail store. If we were betting people (and sometimes we are…), we're going to bet this will be a very popular place come Halloween time. But beware…. enter at your own risk…… Mmmwwhahahahahaha…..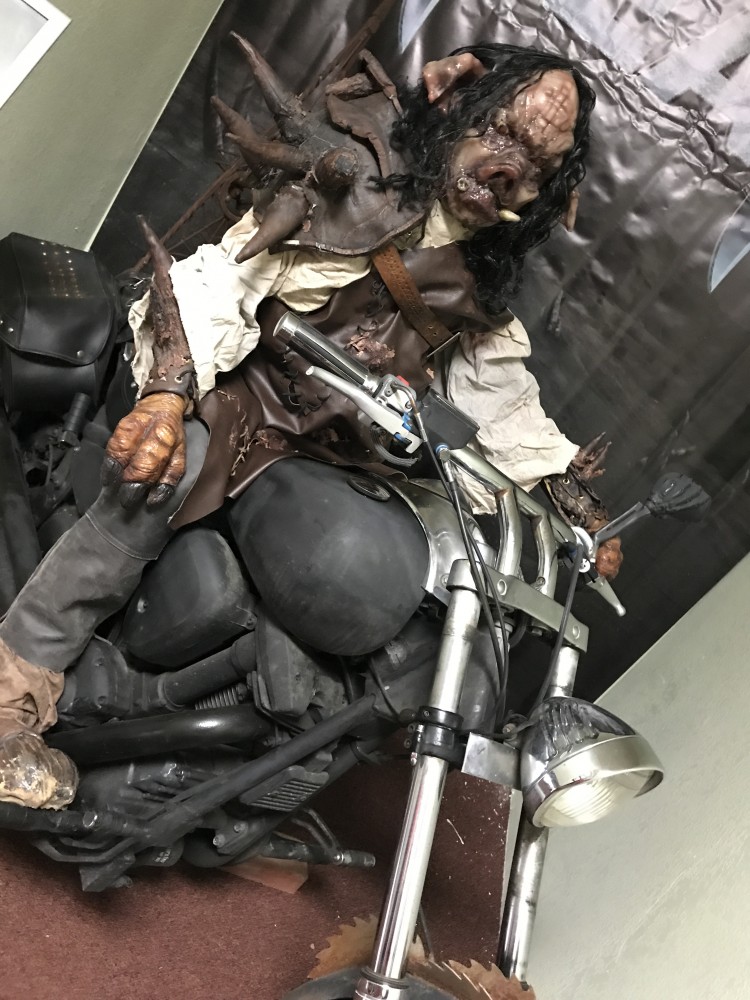 Describe your business
Tom Devlin's Monster Museum pays homage to the past and present of horror and ghoul. It is a museum, retail and costume shop, as well as an upcoming haunted experience during the Halloween season. (Want to scare the neighbor kids? This will be where you will find the creepiest masks to make them shriek!)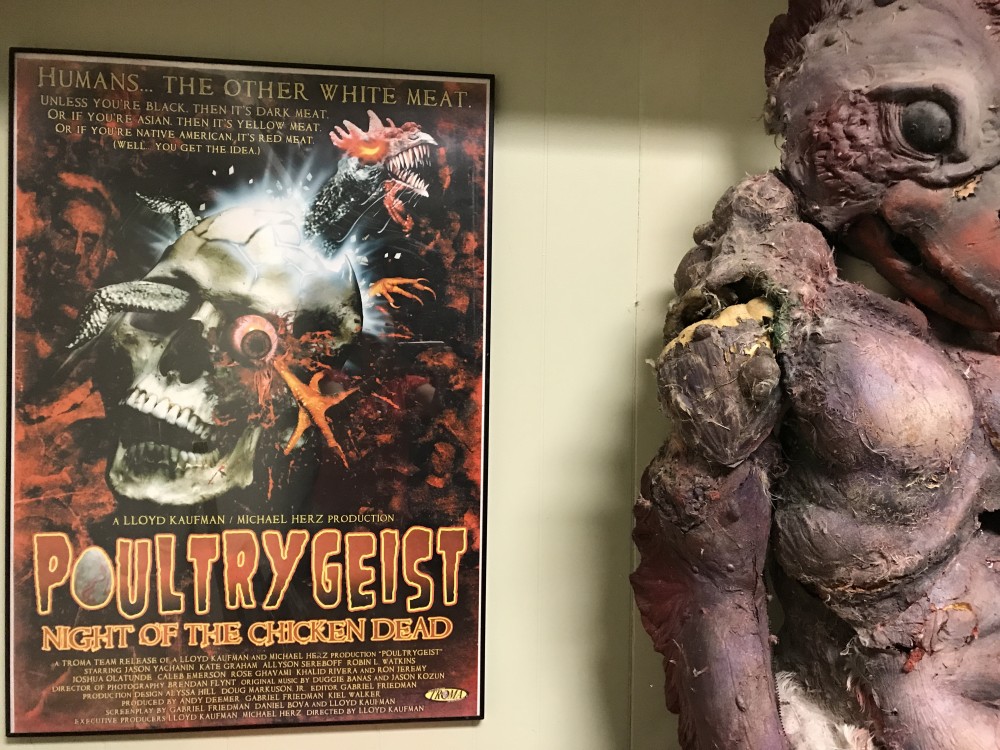 What made you decide to open this business?
When we were in Vegas, before moving here, we couldn't decide whether to open a costume shop or a museum. Then after we moved here and found this building, we knew we had to open both.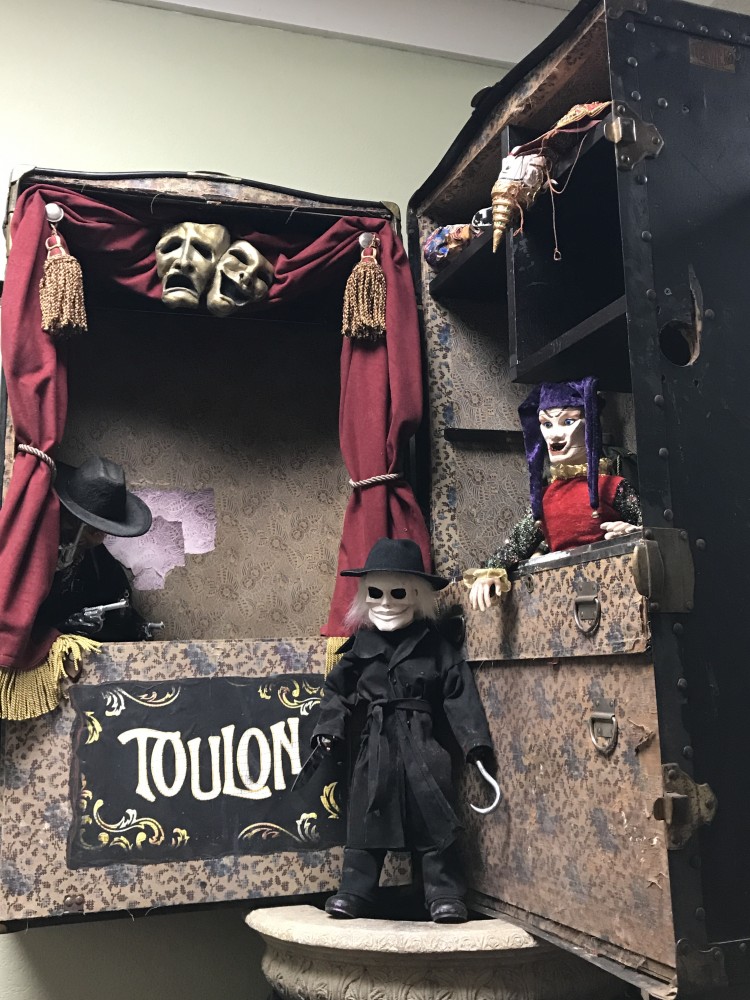 What was it like when you first started?
I think one of the reasons I got into it was because I wasn't allowed to. I wasn't allowed to watch Friday the 13th when I was a kid. And I wanted to! It's kind of like "don't press the red button", but you do because you're not supposed to. Other kids were trying to sneak cigarettes or something. I just needed to go see a " Chucky" movie! That's where it comes from. My daughter works alongside me making stuff. And if she wants to pursue this and keep going with it, sure, I'll support her. But I would never push my kids into working in the film industry. It's just a crazy, crazy business to be in. I moved to L.A. when I was 17. I worked on X-Files when I was 18. And a lot of people have seen me on Face Off. (Remember "Teddy Told Me To"?) But it's not all glamorous. It's a tough industry.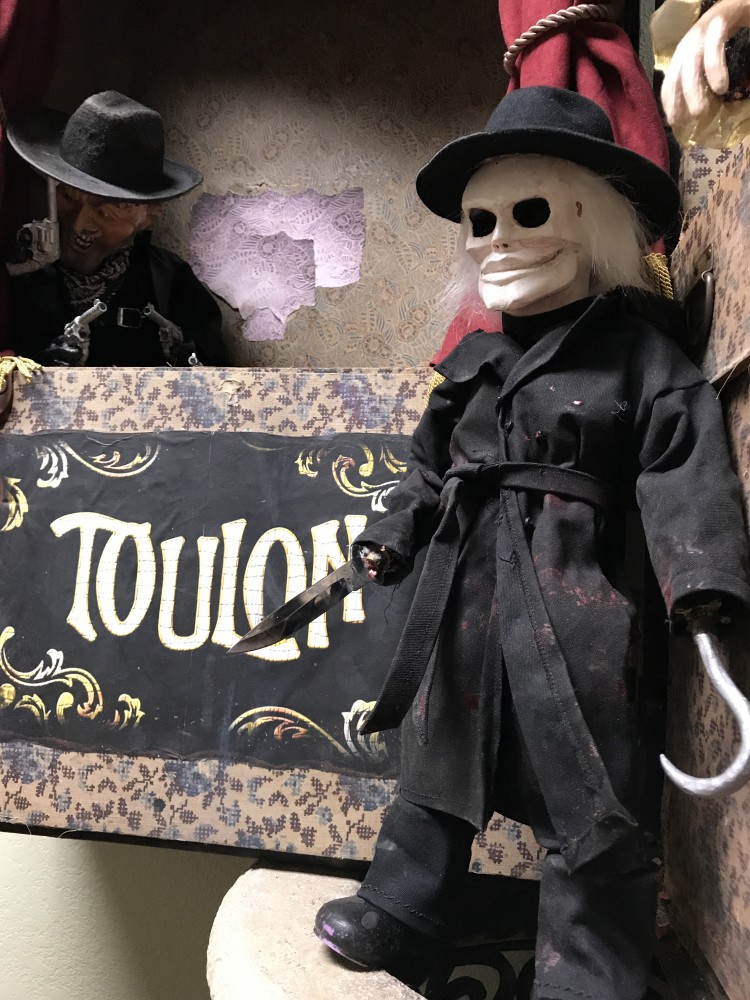 SO, YOU ARE ALSO AN INSTRUCTOR?
Yes! I've taught throughout my entire career. I started in 2005 teaching at a cinema makeup school in L.A. until 2006. I also taught in Chicago at a place called "Makeup First" . Now I teach at a place called "The L Make-Up Institute". It's the only makeup school in Las Vegas. I head up the entire special effects section of it. We're about to move to Summerlin; we're expanding big time. (Check out his bio at Lmakeupinstitute.com/faculty/)
WILL YOU BE RUNNING THE DAILY OPERATIONS AT THE MUSEUM?
No, but you will see me around. My wife will handle the retail here. My dad will work the counter. I will just make stuff that goes in here. But after the build is completed, I will be around and will hang out a lot. I'm already planning what I want to expand into. So I will be working on that as well.
Do you have any exciting plans for the future that you want customers to know about?
We will continue to grow, add new things and likely expand. (So stay turned everyone. We know it will be exciting!)
What do you like most about being an entrepreneur?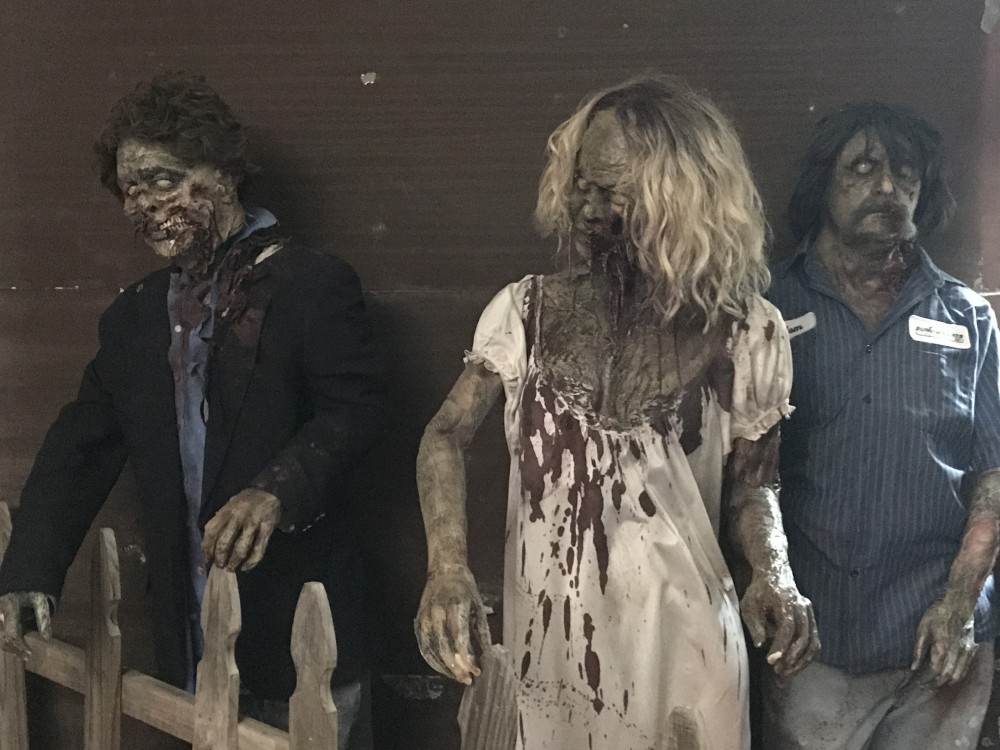 I guess I am an entrepreneur…. huh…?
I like the creative control. I've built haunted houses and done events for other people. I work in a school for other people. Before actually working at the school, I did shows and movies. Now that I think about it, I've been an entrepreneur my whole life. I've run 1313FX since 2002; my own show and game effects company. I ran the Fright Zone from 2005 to 2013. And now we're in the monster museum… But I've never really looked at it as being an entrepreneur. I guess I'm growing up a bit. (laughs out loud)
You know, I look at myself as an artist more then anything. And I love sharing my art! Like any artist, I want people to see it. I don't want to keep it in my garage. I put pictures on Facebook and Instagram, but it doesn't do justice to it. Here you can stare right at it, see the the shape, pore texture, movements and stuff.
What do you love most about the neighborhood?
Within the first three weeks of moving to the Las Vegas Valley, I drove through Boulder City. I knew "That's that's where I want to live. That's the place I want to be." It took two years to get everything going in Las Vegas, to make sure there would be job security and we'd stick around. We really wanted the small town atmosphere, like what we were used to. I have two small kids, four and one. The four year-old races B.M.X. bikes. We would come up to the race track every week on Fridays. One Friday, knowing this is where we wanted to settle, I was driving around some neighborhoods. Right across from the track we saw a house for rent. Without even thinking twice, we called the number applied. Two days later, we were moving in. So it's great! Now we are in Boulder City. We love it here and all the town has to offer. It is so family-oriented. Everyone has been so kind and supportive of us.
Why do you think it's important for people to shop local?
I think it's cool what you guys are doing to support business here in Boulder City. That's what we want, too. That's really our idea as well. At Halloween so many – and there's about fifteen thousand people here – drive down the hill and go to Spirit Halloween to buy their costumes. But now on there way to Spirit Halloween, we will have a giant sign hanging up saying "Don't go to Spirit, stop here!" We will have every costume you can buy there right here in town. We've been in the Halloween industry our entire adult life, so we know all the vendors and can get all that stuff, too (plus more cool stuff you won't see at Spirit). We really want to stock this place with costumes for kids and adults. Let's keep the money in Boulder City, supporting Boulder City families!
WHAT KINDS OF COSTUMES WILL YOU HAVE
A little of everything! Certainly not all creepy; just everything you can imagine from Transformers to Sexy Nurse right here in town.
ARE YOU DOING PROMOTIONS HERE IN TOWN?
In October we're going to Art-In-The-Park, show everybody how and what we do exactly. Maybe show off a little of our "art".
WHAT ARE YOUR THOUGHTS WITH THE I-11 INTERSTATE?
I'm nervous. But my mind changes depending on who I talk to. Some people I with are thinking it's going to be great because all the tourist traffic will be solely tourist traffic and we won't be pressured by the big trucks in town anymore. I don't really know what that is going to do for us. Maybe it's better that we get established now and have a few seasons under our belts before it happens. I don't think I'm going to feel the pressure like other businesses that have been here for a long time. I'm starting along with this upcoming change. I want to get as much tourist traffic as I can get, though. But what I really want is for the Boulder City locals to support us at Halloween. Hopefully we can put on fun events for them, too. We plan on doing signings once a month and maybe some movies in the park, or some things like that.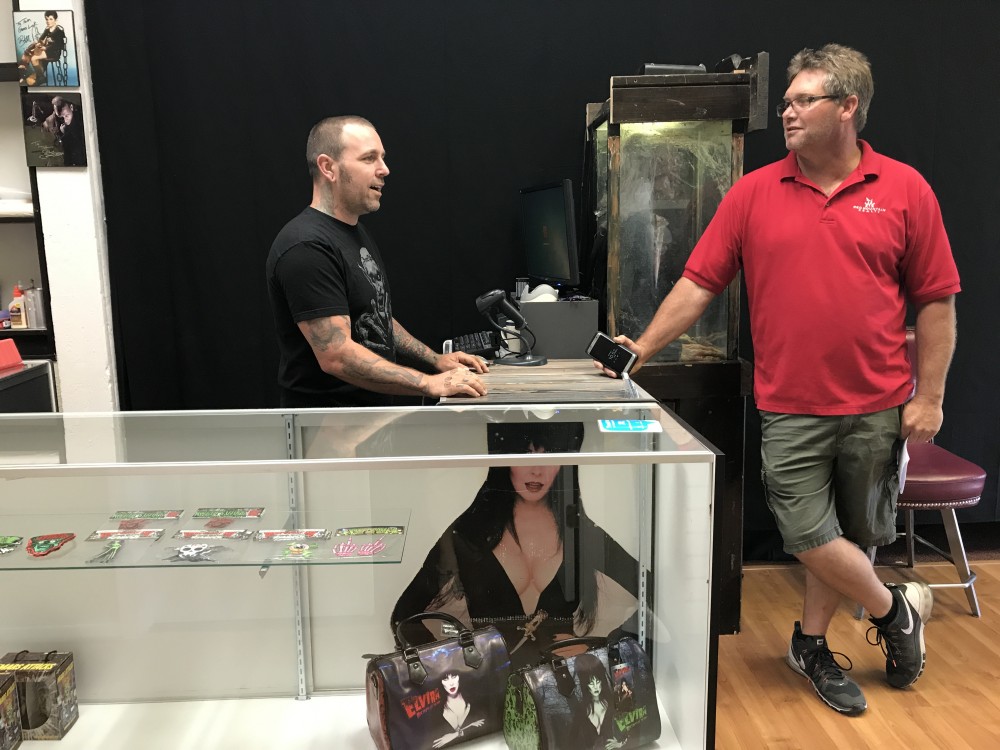 SO WHEN DO YOU OPEN?
The plan is to open July 1st. Price will be $13.50 to take the tour. If you're in the right place at the right time, and I see you with any kind of monster related gear or tattoos, or anything science fiction-related, or something that says " Hey I'm a fan", I will hand you a $3 off coupon.